Limo service NY is a premier Prom Limo NY Company that offers transportation services for your Limo service NY.
Our Prom limo NY packages include your favorite limousines at the most competitive pricing. Our Prom Limo NY Chauffeurs will treat you with the respect that you deserve as young adults. We are proud to be able to offer the best Prom Limo NY service.
When renting your prom limousine service from us, you will receive the quality of our service, the reliability of our competent drivers, the widest assortment of limousines available for rent, and a VIP Service. Our large selection of limos will satisfy the most exquisite tastes.  Limo Service NY offers luxury SUV Limos, Exotic Limousines, and Classic Limos.
Our customers experience Limo Service NY the ultimate limousine service and limousine technology – fiber optic, neon lighting, disco floors and ceiling, laser show, iPod Connection, flat-screen TVs, DVD, and more.
Prom Limo NY
We look forward to being with you and sharing the memories of your prom limo NY. We are truly confident that you will enjoy your trip with our New York prom service.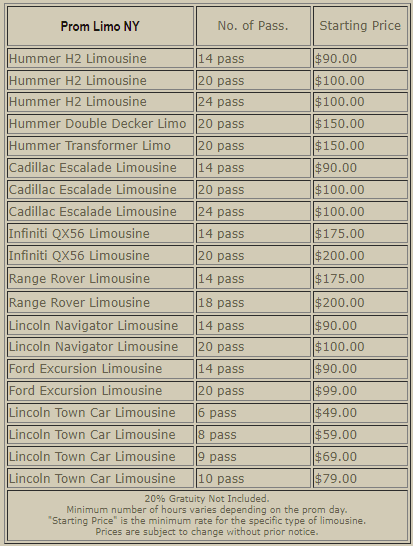 Our job is to make your Prom Limo NY service unforgettable. A Prom Hummer Double Decker Limo or Hummer Transformer Limo in New York can accommodate a large party of couples and add that extra touch to your special evening because Hummer Double Decker and Hummer Transformer are the latest and hottest limousine around – so make sure you rent that limousine that will guarantee a super grand arrival to your prom. Enjoy our prom limousine features like the Lighted Dance Floor, Chrome Rims, mirrored ceiling, 2 Plasma TVs, Laser Light show, 20 speakers with subwoofers, 8 bar areas, full chrome backlit bars, fiber optics, neon lighting, disco all over, and more – our Prom limos NY scream PARTY!
Arrive in high style in your New York and New Jersey prom limousine.
Having a safe prom is another thing that we care about. Our excellent, courteous, specially trained and professional Prom limo NY drivers will get you to your destinations with ease and comfort. Your prom Limo NY will be a special occasion to look back on and remember. When you drive with Limo service NY and you choose our Prom Limo NY service, your safety is our first priority.